Known for the diverse wildlife and amazing vegetation, Bijrani Zone is one of highest wildlife populated range of Corbett National Park. Bijrani Range is located close to Amdanda Gate a near Ramnagar. Visitors can have higher probability of tiger sighting during Bijrani Safari. Wildlife, grasslands and dense, deep forest with stormy drains are major attraction of Bijrani wildlife zone.
A favorite spot for shooting in British era, Bijrani range is still a hot spot for wildlife lovers. Bijrani Range has core, buffer and tourism zone. Tourists are allowed to visit only tourism zone which starts after 5 km from Amdanda Gate. Forest Rest House FRH Bijrani is available for night stay at Bijrani Range. Visitors can take jeep and elephant safari at Bijrani. It is recommended to pre-book Safari at Ramnagar office. Bijrani Zone is open for visitors from 15 October to 15 June. Only two safari are operated during a day in Bijrani zone.
Jhirna is located on the southern periphery of Corbett Tiger Reserve. It is one of the man animal conflict zone years ago. Jhirna was one of the three villages which have been relocated to other places for the sake of the conflict. This particular zones village namely Jhirna, Dhara and Kothirau transformed into densely forested and grassland habitat which is excellent for bird viewing. This zone is the prey ground of the nilgai, cheetal, sambhar and the wild boar by the big cats, which makes this place much appropriate for exploring tigers. The animal population also comprises sloth bear and wild elephants which provide great sights for the wild life enthusiasts. Jhirna zone is open throughout the year.
A well known destination in the ark and situated at the fringes of Patlidun Valley. There is a rest house, which was built hundreds of years ago. Kanda ridge forms the backdrop, and from Dhikala, one can enjoy the spectacular natural beauty of the valley which is 36 kms.
Durga Devi Zone is the hill safari zone filled with wildlife beauty and adventure within the Corbett National Park. Located at North-Eastern side of the park, Durga Devi Range has Ramganga river and Mandal river flowing by is side. This zone is famous for sighting wild elephants and fishing at Domunda Bridge also enthral visitors. Famous Mahasheer fish can also be found in the river water of Durga Devi Range. Green forest in this range provides ample opportunity for bird watching too.
Sitabani Wildlife Reserve falls in the Nainital district of Uttarakhand and has geographical and ecological characeristics of the Sub-Himalayan belt. It comprises an entire hill of the Kumaon Himalayas and is flanked on three sides with dense Sal forest connecting it to the famous Jim Corbett National Park. To the north, it is connected to the Oak and Rhododendron Himalayan mountain forests of Nainital forest division and the western boundary is etched by a sub-tributary of the Kosi river. Broadleaved deciduous forest, riverine vegetation, scrubland, grassland along with gorges and ravines form a varied topography inhabited by rare wildlife. The reserve gets above 600 species of resident and migrating birds throughout the year. Being a part of the trans-Himalayan birding corridor, the reserve gets both plain and mountain birds during latitudinal and altitudinal migration patterns. Some Himalayan animal species like Himalayan Black Bear, Himalayan weasel, Yellow-throated Pine Marten, Himalayan Goral and Serow also visit the reserve especially during the winter months. Indian leopards in this reserve inhabit the craggy cliffs and gorges to avoid interaction with the dominant predator, the Royal-Bengal Tiger which prefers the thickly forested valleys and lowlands. Herds of Asiatic Elephants often pass through the bamboo plantations of this nature reserve when migrating between the core and buffer areas of Jim Corbett National Park. Altitudinal and geographical variations and diverse flora combined with direct connectivity with Jim Corbett National Park on one side and the Nainital Forest Division on the other makes this reserve a natural tiger-leopard and birding corridor of strategic conservation value.
Girija Gate is new safari zone being added which is now available for tourists for enjoying safari. So far tourism safari zone in Corbett National Park include Bijrani, Jhirna, Dhela, Durgadevi, Sitabani and Pakhro. Being a limited safari seats, the Corbett administration has opened the Girija tourism zone for tourists. During peak tourism season many wildlife lovers get disappointed as they do not get chance to enjoy safari. However, the practice of opening new zone was pending for a long time. Garjia is a very popular jungle area of the picturesque Jim Corbett National Park. This tourism zone is enriched with a large variety of floral and faunal species. When the tourist's preference in terms of safari is concerned Garjia gives a tough competition to Dhikala tourism zone. The zone is popular for its wonderful landscape and it is very cool and calm place. The dense forest and its natural beauty is admired by visitors. This region is one of the most tiger reach area of the Corbett Park.
A heritage museum, just 4.5 k.m away Corbett Museum is just more than a museum near Kaladhungi. Historians, heritage and wildlife lovers take a must visit to this special museum. Once a place of stay during winters for renowned hunter turned environmentalist Jim Corbett, this museum display amazing belongings of him. Visitors can watch Jim Corbett's personal articles, gun, cap, bag, fishing net, paintings, sketches, manuscripts and the last hunting by him. Located at Choti Haldwani near Kaladhungi, Jim Corbett remains open throughout the year except on the occasion of Holi.
The birdlife is rich and varied with over 580 species of birds. Birding Tours within Jim Corbett can also be organized on request. Lying amid the Indo-Gangetic plains and the foothills of Garhwal Himalayan ranges, Corbett National Park is a heaven for bird lovers. Its dense Sal forests, grasslands and hilly vegetation provide the perfect habitat for numerous species of birds. From lesser known regional varieties to long-distance migrants, these colourful chirping creatures are one of the major attractions of the park.
A walk in nature brings us a serenity by allowing our overstimulated modern minds a chance to rest. It helps us to relax, it lowers our stress, depression, and anxiety levels, it increases our attention spans and memory, and it provides a source of gentle exercise. Spending time in the natural world slows us down and makes us feel at peace; thus nature walks can be very effective as a supplemental therapy for addiction, anxiety, and high levels of stress.
The dam is located in the south-west of the wildlife sanctuary. This is one of the best places for a bird watching tour. Kalagarh Gate is a well known and most easily accessible entry point for Corbett National Park. Located at equi-distance from Kotdwar and Ramnagar, Kalagarh Gate is entry gate for Jhirna and Dhikala Range. A perfect picnic spot for family members and group of friends, a visit to Kalagarh Dam takes you miles away from the everyday chaos of life and transports you amidst the serene surroundings of the dam and its adjoining natural landscape.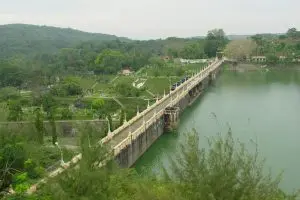 Corbett Fall is situated 25 kilometres from Ramnagar. Thick teak wood jungles and a narrow winding road 1.7 kilometers inside is an out of the world experience. The best thing all along has been the chirpings of birds in the background and sound of flowing water. 4 kms from Kaladhungi, on the Kaladhungi – Ramnagar highway, falls at leisure. Corbett Water Falls. Surrounded by dense forests, pin drop silence, this 20 mts. high fall is simply a sight to behold! Famous as the ideal camping hide out, this spot now has become a major tourist attraction. Trekking in the forests, bird watching at peace or nature walks at leisure are the only routine and time pass at Corbett Falls.
Nainital is located at a distance of about 87 Km from the Jim Corbett National Park. Situated at an elevation of 1,938 Mt above sea level, this place got its name from an eye shaped lake which is set amidst mountain surrounded by thick Alpine Trees. Nainital is also known as a 'Lake District' because it is home to five beautiful lakes named Nainital, Bhimtal, Naukuchiatal, Khurpatal, and Sattal. It is a glistening pearl of the Himalayan range since it is blessed with fantastic natural splendours and a variety of flora and fauna. Whether you are traveling alone or you are with your family, Nainital is perfect for you. You can enjoy nature as well as participate in some adventurous activities.
This place is located at a distance of about 84 Km from Jim Corbett National Park. Lying at an altitude of 1,375 Mt above sea level, Bhim Tal's main attraction is the Bhimtal Lake with a small island at its centre. Bhimtal, unlike Nainital as is a peaceful and quite place which adds charm to the stay at here. Bhimtal provides ample water sport opportunities for amateurs with paddling and boating facilities. Bhimtal is older than the Nainital city as it was once the part of the ancient silk route. The island amidst Bhimtal is 91mts from the shore of the Bhimtal Lake.
Ranikhet literally means the queen's meadow. It is a hill station in Almora district of Uttarakhand and is situated 75 kms from Jim Corbett National Park at an altitude of 1,869 Mt above sea level. Known for being the base for Kumaon Regiment and Naga Regiment of the Indian Army, this place is a must visit since it gives an pulchritudinous view of the snow clad peaks of Himalayan range besides vast varieties of flora and fauna.